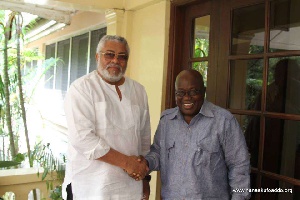 President-elect, Nana Akufo Addo paid a courtesy call on former President Jerry John Rawlings at his Ridge residence to thank him.
Jerry John Rawlings and incoming President Nana Addo of the New Patriotic Party engaged in such an unusual friendly chat, showed great deference to each former foes.

Former President Jerry John Rawlings in a congratulatory statement after the elections urged Nana Addo to fight corruption "across-the-board".

Akufo-Addo's victory is a manifestation of the people's will, adding that Ghana has many challenges which he promised to fix.
"Your victory is a manifestation of the people's desire for new leadership and comes with enormous responsibilities including a commitment to pursue an anti-corruption drive across-the-board," he said.

"Ghana faces huge challenges, many of which you promised to tackle during your campaign tours," he added.