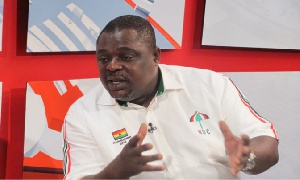 Deputy General Secretary of the opposition, NDC party Koku Anyidoho has accused President Akufo Addo of trying to change Ghana's history albeit in vain and bury the memory of Dr Kwame Nkrumah and rather raise that of his uncle J.B Danquah, following his proposal to Parliament to designate 4th August as Founders day, and 21st September as Kwame Nkrumah Memorial Day.
A statement from the Presidency and signed by the Director of Communications at the presidency, Mr. Eugene Arhin on Sunday said the President has to this end issued an Executive Instrument to commemorate this year's celebration of KWAME NKRUMAH MEMORIAL DAY as a public holiday.

Following the development, 21st September, which previously was marked as Founders Day will now be celebrated as Nkrumah Memorial Day in honor of Ghana's first president Dr. Kwame Nkrumah, the statement noted.

But speaking to Fiifi Banson on Anopa Kasapa on Kasapa FM, Koku Anyidoho slammed the President's action describing it as needless, adding that "if we're not careful we'll start orbiting in the realms of absurdity.
"We're talking about those who founded Ghana and the President in his speech on Independence day in March went as far as talking about the Aborigines Right Protection Council. If we go this way we may soon start obiting in the realms of absurdity. Then we must as well name Corporal Attipoe, Seargent Adjetey, Nii Kwabena Bonney and the rest as part of the founders of Ghana.

Why are we do this to ourselves as a country? We're talking about Ghana's independence, who led that fight and struggle for that gave us independence on 6th March 1957. Where were J.B Danquah, Ako Adjei, and the rest, why were they not at the polo grounds where independence was declared? This is because they were not part of the final struggle, though they were part of a certain movement, certainly not part of the final onslaught that gave us independence, the history is clear on that."