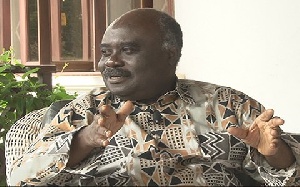 The suspended founder member of the New Patriotic Party, Dr. Charles Wereko-Brobby has revealed that President Akufo-Addo voted against his suspension in 2013.
The suspension of Dr. Wereko-Brobby, popularly known as 'Tarzan', was approved by the National Executive Committee (NEC) in June 2013 after the party said it had absorbed months of spiraling criticisms from Tarzan.

Although a founder member of the NPP, Dr Wereko-Brobby has been a strong and fearless critic of the party since its birth in 1992.

Following some internal party disagreement, he parted company with the NPP to form the United Ghana Movement (UGM), whose flag he bore to contest the general election in 1996.
But after his unsuccessful bid, he returned to the fold of the NPP and maintained his critical stance on pertinent party issues.

Speaking on Starr Chat Wednesday, Dr. Wereko-Brobby told host Bola Ray that contrary to claims that then candidate Akufo-Addo supported his suspension, Mr. Akufo-Addo was against the idea and voted against it.

"Akufo-Addo voted against my suspension," Dr. Wereko-Brobbey said Wednesday adding he was the only who voted against my suspension.