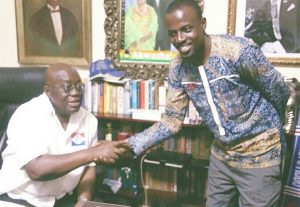 The flagbearer of the New Patriotic Party (NPP), Nana Addo Danquah Akufo-Addo has officially welcomed Awal Mohammed, who until recently was a leading member of the National Democratic Congress (NDCs) communications team and the deputy national communications officer of the Zongo Caucus to the NPP.
Awal made the shocking decision to defect from the NDC to the NPP at a press conference at the Party's campaign office at Kokomlemle on October 5, 2016.

Nana Akufo Addo welcomed Awal Mohammed to the NPP fraternity at his Nima home on Tuesday when Awal paid a courtesy call on him.

Awal was accompanied by the Ashanti Regional secretary, Mr Sam Pyne and Nana Boakye (Nana B). Nana Addo stated that Awal's defection is refreshing news and that he is happy that Awal has joined the New Patriotic Party.

The convert on his part said he will work very hard especially in the Zongos to secure the victory for Nana Akufo Addo and the NPP.
It will be recalled that at the launch of the NPP's 2016 manifesto over the weekend, Nana Addo praised the decision of Awal Mohammed, labeling him as patriot who reasoned beyond partisan interest to champion the national interest due to the hardships imposed on unemployed Ghanaians.

Nana Akufo Addo stated that 'Maybe, the President should talk to young Awal Mohammed, who was until this past week, the deputy Director of Communications of the NDC Zongo Caucus.

He does not sound to me like an unpatriotic young Ghanaian if the President looked a little closer, he would see the army of desperate young unemployed who are in despair,' he said.

Awal's defection has already triggered a lot of defection of disappointed members of the ruling NDC to the NPP.