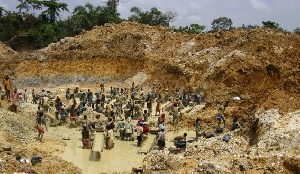 President Nana Akufo-Addo will cement a legacy as one of the "greatest" leaders Ghana has ever had if he successfully uproots illegal small-scale mining (galamsey), Mr Ken Ashigbey, Managing Director of the Graphic Communications Group, has said.
In Mr Ashigbey's view, leadership failure at all levels is to blame for the festering menace which the media in Ghana have now united against.

The Akufo-Addo government has also expressed strong commitment to dealing with the issue.

According to him, the President has a great opportunity now to make history as far as the galamsey menace is concerned.

"The good thing is that President Nana Addo stands in a very good place where he will be remembered as one of the greatest leaders Ghana has ever seen if he is able to stop this menace of galamsey and bring Birim back to what he, as an Akyem, can proudly say that now he can put a calabash back into the Birim and drink. He stands in a very good place and I'm praying that he will be able to do that and today when I did my rosary prayers I prayed for him that he would really be able to do it. And it is not only the prayer, we would ensure, we would put the persuasive force of the media behind him in support of his action, we will report it to make sure that he will be able to do it," Mr Ashigbey, who is leading a media coalition against the menace, told Moro Awudu on Class91.3FM's Executive Breakfast Show on Wednesday, 5 April.
Mr Ashigbey said inasmuch as the media will support the president's efforts, they will also hold his government to account. "…We will hold him to his commitment, we will hold his Minster of Lands and Natural Resources who has given his commitment, the Minister for the Interior, Minister of Environment and Minister of Water Resources, we will hold all of them to their commitment," he assured.

He also cautioned against politicisation of the efforts to fight the canker.

"We are also serving notice to the NDC that this is not one of the things that NPP will start doing a particular thing and because of political expediency, the NDC, too, will come in and start showing them in bad light. We will also expose them if they try to do that. We would work with the NDC to ensure that this is a national call, so it is not about partisan politics. Ghana is older than any political party, so all of us should work together to ensure that Ghana will succeed in this fight," Mr Ashigbey noted.