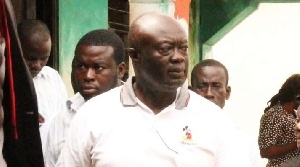 Former mayor of the Kumasi Metropolitan Assembly, Maxwell Kofi Jumah has revealed he is not "too determined to serve" in Nana Akufo Addo's government.
Kofi Jumah however says in his personal capacity, he will contribute his quota in ensuring success of the yet to be formed government of the New Patriotic Party.

The former Member of Parliament for Asokwa Constituency in the Ashanti Region was speaking on Abusua Nkomo hosted by Kwame Adinkrah during which he apologised for comments he passed against teachers.

In a facebook post, Kofi Jumah posted 'My friends, thanks for your advice and direction. It was never my intention to attack teachers as a whole. Indeed I am very much aware of the overwhelming support that the NPP got from teachers. I went overboard and I sincerely apologize for that. I was caught off guard. And it was very unfortunate. I sincerely believe Nana will deliver on his promise to our teachers and to Ghanaians. Once again accept my apologies"

"I have the believe that Nana Addo is going to be the best President this country has ever had and that alone excites me" He said.
The former KMA boss added "My daily prayer to the almighty God was to help Nana Addo rule Ghana and thankfully he has done that so what is left now is how best he's going to govern the state to a deserving standard for the good people of this country".

He finally advised yet to be appointed ministers to serve Ghanaians diligently with God fearing and desist from stealing state funds as the New Patriotic Party intends to transform Ghana to a higher pedestal.

Kofi Jumah served in the previous government of the New Patriotic Party as Chief Executive of Kumasi, Deputy local government minister and Member of parliament for Asokwa under John Agyekum Kufour.