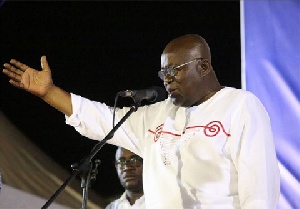 Tue, 27 Dec 2016 Source: MFKI
The Movement for the Kingdom Image wishes to caution the leadership of the New Patriotic Party (NPP) led by the president-elect Nana Addo Dankwa Akufo Addo to always remember that they involve only God as their source of help in their government to escape the danger of making a bad history for themselves as the worst performing government since Ghana had independence.
The NPP and Ghanaians are witnesses that it is God who gave them this victory to prove himself that He (God) is always there to answer those who seek him diligently and consistently therefore his presence is expected to be felt in the NPP government in all decisions they make God must be consulted through his prophets and pastors.

We want to state without any bias nor intimidation that the Nana Addo led government have two choices either to involve God in all things in their government and succeed as one of the best governments Ghana has ever had or abandon God after using him to win their election and set bad record for themselves as the worst government in the history of our motherland Ghana.

One thing that God hates so much is ungratefulness that is why the Lord became angry with the Israelites when they worshipped smaller god's after the Lord had brought them out of Egypt slavery and that is what will happen to NPP if they abandon God and seek help elsewhere or lean on their own book wisdom.

The warned the Israelites after he brought them from the bondage of Pharaoh of Egypt hands according to Deuteronomy chapter 6:12-15 that "Be careful that you do not forget the Lord, who brought you out of Egypt, out of the land of slavery.
13 Fear the Lord your God, serve him only and take your oaths in his name. 14 Do not follow other gods, the gods of the peoples around you; 15 for the Lord your God, who is among you, is a jealous God and his anger will burn against you, and he will destroy you from the face of the land"

This is the same warning the wants the Movement for the Kingdom Image (MFKI) to deliver to the NPP especially Nana Addo so that they do not attract the wrath of God.

May God give us a good ear to decode his voice. Merry Christmas to all Ghanaians. long Live MFKI Long Live Christianity Long Live Ghana
Source: MFKI