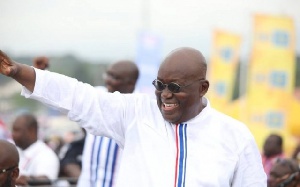 Nana Kwame Nyarko Sarkodie, a known financier of the New Patriotic Party (NPP) in Kumasi, has urged the citizenry to support the incoming NPP administration led by Nana Akufo-Addo to effectively develop the country.
According to him, the President-elect Nana Addo Dankwa Akufo-Addo, has the requisite experience, knowledge and vision to transform the country within a short period of time.

In this regard, he entreated the citizenry to exercise restraint and have faith in the incoming administration.

Nana Nyarko Sarkodie is the CEO of 3VS City Company Ltd, which imports engine oil lubricants and spare parts at Suame Magazine.

He is also a staunch supporter and financier of the NPP in Kumasi.
During the December 7 polls, the accomplished businessman single-handedly gave money to over 100 NPP supporters to travel outside the Ashanti Region to vote for the party.

Nana Nyarko Sarkodee has provided financial assistance to the NPP and its members over the years.

Speaking to DAILY GUIDE, the business mogul stated that Nana Akufo-Addo and his team of competent ministers can revive the country's economy which was mismanaged by the NDC.

Businesses always thrive and life becomes easy and comfortable for citizens whenever the NPP is in government, and so people must support the NPP government to effectively develop the country, he added.