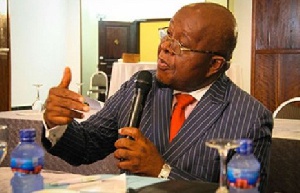 Mon, 19 Dec 2016 Source: The New Statesman
Mike Oquaye, a former 2nd Deputy Speaker of Parliament, is convinced the incoming New Patriotic Party government, under the presidency of President-elect Nana Addo Dankwa Akufo-Addo, will not take undue advantage of its comfortable majority Parliament to turn the nation's legislative institution into a rubber stamp.
The NPP overturned the NDC's majority in Parliament in the just-ended general elections, securing 169 seats, while the NDC had 106. The NPP has served notice it is challenging more than five results of the parliamentary elections.

Speaking in an exclusive interview with the Daily Statesman, the former Member of Parliament for Dome-Kwabenya, stated with the president-elect having contributed to the strengthening of the work of Parliament as a three-term MP, the last thing he can be expected to do is to seek to undermine the institution.

"The Akufo-Addo presidency will represent good governance and respect for the rule of law, and I believe this will reflect in the relationship between the Executive and the Legislature. Nana Akufo-Addo has absolute respect for the work of Parliament, having been a member of the august house for three consecutive terms. I don't think he will be seeking to use the comfortable majority of the NPP to turn Parliament into a rubber stamp. Akufo-Addo won't inhibit Parliament," Prof Oquaye stated.

The man who is tipped to become the next Speaker of Parliament is rather convinced that the period of the Akufo-Addo presidency will see the legislative institution working more in the collective interest of the people, with enhanced image.

He shared his views on Ghana's Parliament: "My view on the Legislature, first and foremost, is that Parliament is the weakest of the three arms of government. And one can't don't blame Parliament. Anytime there was a coup, there was still an Executive because the coup makers took the position of the government.
"There was still a Judiciary. Even if one added People's Tribunal to it or not, the Judiciary remained, despite some of the attacks on the Supreme Court during the time of Justice Apaloo and the PNDC time and so on. As for Parliament, it was invariably dissolved."

Prof Oquaye added: "You know, when Parliament regrouped, after the 1992 elections, that was 1993, only J H Owusu Acheampong, the man who became Majority leader, was there. He had actually known Parliament before. This is serious. So in fact Members of Parliament have done very, very well because there was no institutional memory; there was no continuity, and so on. This is one thing people always forget when they are criticizing parliament. They often forget this and it is something I have written extensively on."

While commending the current crop of MP's for contributing their quota to enhancing parliamentary democracy in the country, Prof Oquaye said more could be done to enhance the work of the Legislature.

He particularly expects the incoming NPP majority to ensure that the work of Parliament is conducted in 'the J H Mensah Way.'

"The 'J H Mensah Way' is ensuring meticulousness and strict adherence to due process and details in carrying out the work of Parliament, especially when it comes to scrutinizing loan agreements and bills."
"Now you are talking about the NPP's comfortable majority in Parliament and the fear of people that it could lead to rubber stamping. It is something people have already been saying: that parliament is not scrutinizing; look at certain loans; look at what is happening and so on. If we have an institution such as Parliament, we must be mindful of the aspirations of our people. If someone is making a point about due process, you must allow it to go on, so that, for example, you don't approve of a loan and then say you are later on going to sit to look at the details," he stated.

Prof Oquaye added: "The issue of value for money must be of serious concern to Parliament. And that was why, for example, I was very critical of the buying of the aircraft under the NDC and the STX deal and so on… So if Parliament does not go into the details, Parliament cannot approve and this is something I think should not be stampeded by a majority and in any case if you do that Ghanaians are watching and they will punish you. Whether it is party A or party B, if you are not looking at their interest and the analyses are taking place on the radio and TV, and you say you won't listen because you have a comfortable majority, the people will punish you."

To the question of how he wants to see the next Parliament, Prof Oquaye had this to say: "the Majority in particularly should ensure that the image of the house is enhanced in the execution of its oversight mandate over the Executive. They need to ensure that the house is working in the absolute interest of the nation. The fact that you have a comfortable majority does not mean you should just be using your numbers to rubber stamp bills and agreements from the Executive. There is the need to subject them to critical scrutiny to get the best for the country. That certainly will reflect the character of the incoming president. There must be absolute respect for the minority who are very critical in shaping decisions of the house. They will need to avoid committing the nation to agreements that will eventually be seen by the people as detrimental to their future interest."
Source: The New Statesman