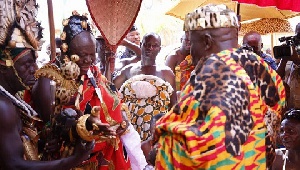 The Asantehene Otumfuo Osei Tutu has called on Ghanaians to disabuse their minds of the long-held perception that Ashantis and Akyems have scores to settle.
According to him, the forefathers of the current Okyenhene Osagyefo Amoatia Ofori Panin and his, were very good friends.

The Ashanti Monarch is the special guest of honour at a grand durbar to mark the 75th anniversary of the late Okyenhene, Sir Ofori Atta. The Okyenhene is the host of the event.

The visit comes on the back of an earlier one by the Okyenhene to the Manhyia palace on the invitation of the Otumfuo some months ago.

The two major traditional leaders have been deemed to be historic enemies following the ancestral wars fought between their forefathers in colonial Ghana.

Speaking at the durbar grounds, the Ashanti Monarch said he accepted the invitation of Okyeman because they have a long history of good relationship.
"Nana ofori Atta did a lot for the Ashanti kingdom. Even my uncle Agyeman Prempeh thanked in the past, I'm also here to thank him for what he did for Asanteman. He was the lead advocate for the release of Nana Agyemang after he was exiled to Seychelles.



"I want all to understand that Ashantis and Akyems have no issues, we have a long standing relationship. Our forefathers related very well. And we all came from Adansi and built our communities. In indeed we are one people," Otumfuo said.

Historians say the two powerful ethnic groups became enemies after pre-colonial politicians such as Captain George Maclean and Commander Hill pitched them against each other.

The development eventually led to the killing of Opemsuo Osei Tutu II while crossing River Pra in 1717 by the Akyems.
Speaking to Morning Starr on today's meeting, historian Dr. Samuel Adu Gyamfi said the two current traditional leaders are friends beyond the stool.

"The current Asantehene has a relationship with the Okyehene beyond the stools. The Asantehene would agree that he rather bridges the history between Asante and Akyem on the basis of social collision. The stools upon which chiefs sit represent their power. Traditional leaders understand the nature of power balance," he told Francis Abban Thursday.