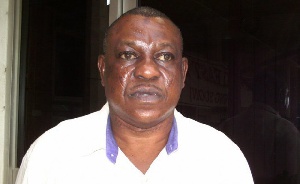 The Managing Editor of the Al-Hajj newspaper, Alhaji Iddrisu Bature, will be buried today, Saturday January 6, 2018 at the Madina Cemetery in Accra, in accordance with the Islamic law, the family has said in statement.
According to the statement, the burial will be preceded by Janaiza prayers which will be observed at his family house at Nima, Gorillas; adjacent UniBank.

"The mortal remains will then be conveyed to the Madina Cemetery at 1 p.m. for burial," announced the statement.

The outspoken journalist and avid supporter of the opposition National Democratic Congress (NDC) died few minutes past 3 p.m at the at the Korle-Bu Teaching Hospital where he was receiving treatment after a short illness.

Bature was a regular panel member on Adom TV's political talkshow often clashing with NPP firebrand Kennedy Agyapong.

Below is the statement from the family

The Iddrisu family and Harzet Company Limited, publishers of The aL-hAJJ newspaper, wish to announce the sudden and untimely death of Alhaji Bature Iddrisu, Managing Editor of The aL-hAJJ newspaper.
The late Alhaji Bature gave up the ghost few minutes past 3 p.m. at the Korle-Bu Teaching Hospital where he was receiving treatment after a short illness.

In line with the Islamic faith, Janaiza prayers will be observed, Saturday, January 6, 2018, at his family house at Nima, Gorillas; adjacent UNIBANK.

The mortal remains will then be conveyed to the Madina Cemetery at 1 p.m. for burial.

We pray to Allah to forgive his shortcomings and grant him Jannatil Firdaus.

Indeed, from Allah we come and unto him is our return.

Amos Blessing Amorse News Editor, The aL-hAJJ Spokesperson for the Iddrisu family