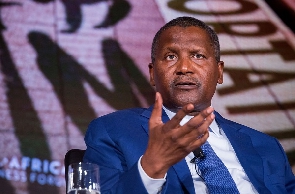 Despite recording a drop in fortune of about $400 million to $13.5 billion, Nigerian business magnate and industrialist, Aliko Dangote has emerged as the wealthiest person in Africa.
The feat by Dangote makes it the twelve consecutive in a row according to a recently released 2023 list of Africa's billionaires compiled by Forbes Magazine.

Dangote is expected to see his net worth increase on the back of commencing production on an oil and petrochemical refinery which is set to take off later this year.

On the African continent, South African luxury goods magnate Johann Rupert took the second position despite recording a $300 million drop in fortune to $10.7 billion.

In third place was Metals and Mining magnate Nicky Oppenheimer who recorded a fortune of $8.4 billion.

According to the list, Africa's wealthiest persons recorded a combined $3.1 billion loss in the past 12 months due to some economic constraints.
In addition, about 19 billionaires from Africa were worth an estimated $81.5 billion, which is a decline from $84.9 billion recorded a year ago, despite one more billionaire listed in the ranks.

Despite recording a 4 percent drop, billionaires on the continent saw their net worth jump about 15 percent in 2022 due to rising stock prices across various regions.

Their fortunes however plummeted on the back of equity values dropping around the world.

For instance, the All Africa Standards and Poor's index dropped by more than 20 percent in the first nine months of 2022 impacting the net worth of African billionaires.

This was followed by a late-year rally which saw the index decline by 3 percent through January 13, which was the day Forbes Magazine locked in stock prices and exchange rates for the list.
Meanwhile, only seven billionaires from Africa's 54 countries made it to the rankings.

See the full list below:




Methodology
The Forbes list tracks the wealth of African billionaires who reside in Africa or have their primary business there, thus excluding Sudanese-born billionaire Mo Ibrahim, who is a U.K. citizen, South African Nathan Kirsh, who operates out of London and another billionaire London resident, Mohamed Al-Fayed, an Egyptian citizen. Strive Masiyiwa, a citizen of Zimbabwe and a London resident appears on the list due to his telecom holdings in Africa.

Net worths were calculated using stock prices and currency exchange rates from the close of business on Friday, January 13, 2023. To value privately held businesses, we start with estimates of revenues or profits and apply prevailing price-to-sale or price-to-earnings ratios for similar public companies. Some list members grow richer or poorer within weeks or days of the measurement date.

MA/FNOQ