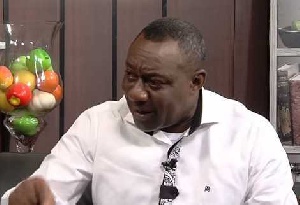 A former Law Maker has disclosed that all Ghanaians are neck deep in illegal mining activities except God.
To him, the fact that we are unable to tackle and deal with the issue of 'galamsey' decisively poses a potential disaster which would be felt across the nation.

"…we are all encouraging galamsey indirectly by our indecision and our inability to act. We will all be in danger so I won't take anyone out. We are all active galamseyers except God" Hon. Henry Kwabena Kokofu said.

The former Banatama MP further called on all to support the efforts of President Nana Addo Dankwa Akufo-Addo in sanitizing the activity.
"It is refreshing to know that Nana Addo is taking the bull by the horns as far as this galamsey menace is concerned. He needs all the support and encouragement we can offer," he said on UTV' Adekye Nsroma.

Hon. Kokofu made these assertions after the President had assured the Chinese community in Ghana that he ws not out to witch hunt but only want the wanton destruction of the environment to seize.