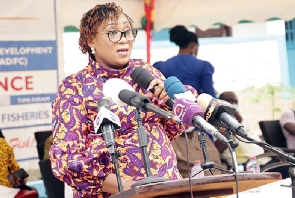 According to Michael Ebo Amoah, a political analyst, and sustainable development analyst, the female MPs on the Minority side approved Mavis Hawa Koomson despite the protests that accompanied her appointment and vetting.
Anyone who doubts him has been challenged to question the former minority chief whip.

He was reacting to the approval of the six ministerial nominees of the President on Friday.

"It happened under the late Rawlings, and in recent times, look at Mavis Hawa Koomson. You even used Ken Ofori-Atta as an example, and I am surprised people have not managed their expectations, including the NDC.
"Go and ask Muntaka Mubarak; the night before Hawa Koomson was approved, all the female MPs on the side of the Minority boldly told him they would vote for Hawa Koomson because one day it would get their turn. Go and ask him. They told him there was no way they would support the party's directive. So why are people surprised?"

When probed further, he stressed that "they told him categorically that they will vote to approve Hawa Koomson. Go and ask him".