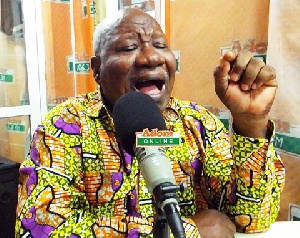 Central Regional Chairman of the opposition National Democratic Congress (NDC) Bernard Allotey Jacobs says the party is opposed to a recent ruling by the High Court, allowing Ghanaians abroad to take part in the country's elections in 2020.
The John Kufuor administration was the first to activate the process but was never implemented until on Monday, when the court told the Electoral Commission to go ahead and carry out the orders from its rulings.

Senior NDC officers have however stood in opposition of the ruling, insisting it is an attempt by the NPP to rig the 2020 elections.

Speaking on Peace Fm Kokrookoo breakfast show, Mr. Allotey said due to the politically tainted nature of embassy officials appointed by the NPP, they, the NDC, will never trust the process to be fair to them.

He was emphatic the NDC will not offer assistance to the process and therefore called for the process to be suspended until further notice.
On Monday December 18, 2017, the Human Rights Division of the Accra High Court ordered the Electoral Commission (EC ) to implement the Representation of the People Amendment Act (ROPAA)2006 (Act 699), which gives Ghanaians in the diaspora the right to vote, within 12 months.

Per the court order, the EC must operationalise the Act by laying a constitutional provision (CI) before Parliament to set out the modalities for the implementation of the Act.

In a judgment delivered Monday, the Court presided over by Mr Justice Anthony Yeboah, said the12 months grace period starts from January 1, 2018, and it is to enable Ghanaians in the diaspora to vote in the 2020 elections.