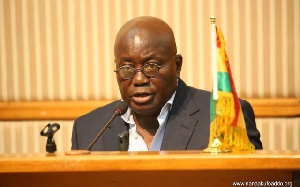 All is set for the inauguration of Nana Addo Dankwa Akufo-Addo as the fifth president of the Fourth Republic of Ghana on 7 January 2017, the co-chair of the Inauguration Committee, Haruna Iddrisu, has said.
Speaking at a press conference in Accra on Tuesday 3 January, Mr Iddrisu called on Ghanaians to support the event to prove to the world Ghana's democratic credentials as the outgoing National Democratic Congress hands over power to the incoming New Patriotic Party government.

"All is set for the inauguration of President-elect Nana Addo Dankwa Akufo-Addo and Vice President-elect Alhaji Mahamudu Bawumia before parliament.

Beginning from the midnight of 6 January, 2017, parliament will usher in the new MPs-elect who will be sworn into office, after which the Speaker and Deputy Speakers and leadership will be determined accordingly," he stated.
Mr Iddrisu further explained: "Parliament will then reconvene at the direction of Mr Speaker at the Independence Square for the major ceremony of the inauguration of the president-elect subsequent to the presidential and parliamentary election conducted on 7 December and the outcome of it reflected the sovereign will of the people of Ghana recognised by the Electoral Commission of Ghana."

"We expect a very dignified and honest ceremony. We expect the Ghanaian public's support and cooperation and we want the outcome of this event to add to the [record] of our country as one of the enduring democracies in Africa, if not one of the best, and to deepen our democratic ethics and values by witnessing a smooth transfer of political power from one government to the other."

Meanwhile, a total of 5,000 security personnel will be deployed on the day of the inauguration to ensure safety and a peaceful transition.