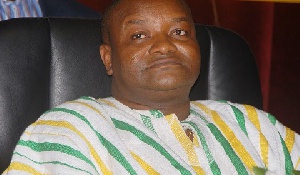 Leader of the All People's Congress (APC), Hassan Ayariga has described political science lecturer, Professor Ransford Gyampo's assertions on the role of an Ambassador -at-large as nonsensical.
Mr. Ayariga comments follow Professor Gyampo's assertion that an Ambassador-at-large was not the same as "errand boy" as being suggested by the APC leader and some Ghanaians.

"Very educated people taking tutorials from Hassan Ayariga who has ignorantly described the position as that of an errand boy is certainly regrettable," the lecturer posted on his Facebook page recently.

However, speaking on Accra based Okay FM Friday, Mr Ayariga slammed the renowned lecturer for discrediting his comments and urged him to do more research on the subject matter.

Ayariga also described Prof Gyampo as a textbook clog who does not have the sufficient wisdom to understand the political implication of Dr. Edward Mahama's new position. He also called the lecturer's article which described him (Ayariga) as ignorant, as nonsense.

"How can you appoint Dr. Edward Mahama as Ambassador –at- large to oversee the work of lawyer Ayi Koi Otoo, Ambassador to Canada? So you see, Dr. Mahama does not merit the appointment. This is just an avenue for 'chop chop'. The is just trying to reward an old unsuccessful politician"
He also added that both President Akufo-Addo and Dr. Mahama are confused.

Reacting to Hassan Ayariga's statement on the same medium, Prof Gyampo said, "my attention has been drawn to some damaging comments made about me by one Hassan Ayariga on this platform; however, I won't even dignify him with a response ."

The political science lecturer however gave further clarity on his article and gave comprehensive reasons why he thinks Dr. Mahama merits the post .

He also said it is high time we stopped politicizing issues and focused on hiring the best brains in the country for the right jobs.