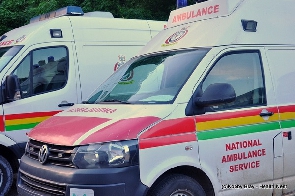 The Ghana Ambulance Service has urged the general public to disregard claims that an ambulance belonging to government is being sold in the United Arab Emirates.
A video circulating on social media which was taken at a car port in Dubai showed an ambulance with Ghana's Coat of Arms embossed on it.

According to the commentary behind the video, the man claimed to have gone hunting for cars to by only to have come across the ambulance belonging to Ghana.

The ambulance also had the inscription funded by World Bank.

The men giving the commentary in the video claimed they wanted Ghanaians to see what government was doing with their ambulance in Dubai.

This has generated a conversation among Ghanaians on social media as government is being blamed for selling the country's national ambulance.
Reacting to the video, in a statement issued on Monday, 29 May 2023, the Ghana Ambulance Service said: "The ambulance in question is one of the 26 Toyota Hiace Ambulances being procured by Government, through the Ministry of Health and being funded by the World Bank."

It revealed that: "The said Ambulance is found on the premises of the company, which is manufacturing the ambulances."

It indicated that: "It is, therefore, not true that the Ambulance is there for sale."

"The manufacturing processes are over and very soon the ambulances will be shipped to Ghana, the statement added.