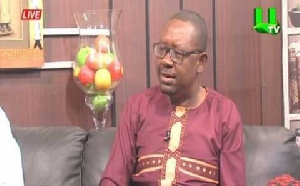 Former Member of Parliament [MP] for Techiman South constituency, Mr. Adjei Mensah has emphatically stated that persons who have been found culpable of misleading government as far as the revised AMERI Deal is concerned must not be left unpunished.
Reports say Gabby Asare-Ochere Darko, nephew to President Akufo-Addo has declared the President was 'misled' into believing the deal was good for the country.

Speaking on UTV's 'Adekye Nsroma' programme, Mr. Adjei Mensah stressed that God has through the AMERI scandal showed that this government have the motive of wanting to benefit from a deal they criticized the previous government of.

"In fact I am very surprised and worried that NPP want to use their own formula of mathematics to benefit from the AMERI deal after they deliberately sabotaged it to gain power.

"It is serious that the NPP who claim they are champions of all things have even in an attempt to steal displayed gross incompetency," he said.

According to him persons who will be found guilty of misleading the President in commanding the Presidential Secretary, Nana Asante Bediatuo, to issue an executive order to parliament about the revised AMERI deal must squarely face the laws of the state.
However, it is being speculated that the President has kicked against the reviewed deal, calling into question the quality of information between his office and the Energy Ministry.

Meanwhile, a close confidante and nephew to the President, Gabby Asare Otchere Darko is reported to have said that the deal is off.

In a tweet last Thursday, the lawyer quoted a story by the Statesman newspaper with the headline "New Ameri deal is off."



Gabby Asare Otchere Darko was a former Editor of the Statesman newspaper which is a pro-government newspaper.
Background

The revised deal brought to Parliament for approval has received as much a backlash as the original deal signed by the Mahama led government in 2015 during a major power paralysis in the country.

The $510million power plant for five years was criticized by the then opposition New Patriotic Party with allied policy think tanks including ACEP and IMANI.

The party promised to review the deal if it won power in the 2016 elections and when it did, a 17-member committee was constituted to investigate the details of the AMERI deal and provide recommendations.

The Philip Addison led committee concluded the deal had been inflated by about $150 million and recommended a review.
The government brought to Parliament a review of the agreement by introducing a new company, Mytilineous International Trading Company, to take over the interest of AMERI with an extended period of five to 15 years.

The new company has offered to pay Ameri an amount of $52,160,560.00, with government paying the remaining $39 million to the Dubai based company so they can wash their hands off the deal entirely.