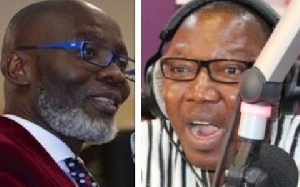 Member of Parliament for Builsa South, Dr Clement Apaak, is demanding an official statement from President Akufo-Addo to the effect that, he was misled in approving the renegotiated AMERI power deal through an Executive Instrument.
The legislator is positing that the newspaper publication by the Statesman which said the president was misled, is a calculated attempt to deceive Ghanaians. He further took a swipe at Gabby Otchere-Darko who he said lacks the integrity and credibility to make such claims through a newspaper he edits.

He quizzed if the story has been accepted as the truth because the editor is a nephew to the president. He is therefore calling on the presidency to issue an official statement to either buttress what the paper published or deny same.

It has been widely published that the president was misled in approving the Ameri renegotiated deal. According to the Statesman newspaper, the president was misled into granting executive approval for the deal under the guise of the need for an urgency to have a bill laid in Parliament before its rising.

The paper also reported that "On his return to Accra on Tuesday from the 53rd session of the ECOWAS Heads of State meeting in Togo, the President quickly requested and received a further briefing on the new deal.

"This revealed that the agreement to which he had given approval on July 31 lacked the requisite input from the Attorney General and the Ministry of Finance. The President had been misled to believe that both departments had assessed the deal thoroughly.


"We are also hearing that the Economic Management Team met on Tuesday to discuss the revised deal for the first time and the outcome was that it is not in Ghana's interest. We are further informed that the new AMERI arrangement will be one of the critical items for discussion at cabinet later today. There are clear indications that cabinet will "kill" the deal.''



Under the proposal, the Greece-based Mytilineos International Trading Company was to assume management responsibility for the AMERI emergency power-generation arrangement negotiated by the past NDC government, in effect extending the original outsourcing agreement by ten years.


However, Mr Apaak in his response said: ''.Aaaaaah. Change has come. A paper reports that a President claims to be misled into sanctioning a dubious deal, yet the paper trail on this dubious deal seems to go all the way to his office. Wait. Did the Presidency say this or a newspaper made the claim that the President was misled? Here we are, busy arguing what a newspaper published. Is it because the said newspaper is owned by the nephew of the President so we believe what the paper has reported being the case?"



He further argued that "The said owner of that newspaper has himself misled Ghanaians as the Finance Minister implied in Parliament when he presented the mid-year budget review, remember the increase in VAT?! My lovely mom, a retired teacher, always says once bitten twice shy, I will not accept the claims that the President was misled until the Presidency issues a formal statement to that effect. Good day! I remain a citizen!''