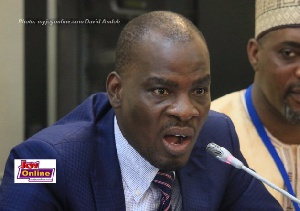 The Minority in Parliament is demanding an official position from government about whether or not it supports the urgent motion filed by MP K.T. Hammond for the rescission of the controversial $510million Ameri power deal.
The Adansi Akokwa MP filed the motion in parliament requesting that the Ameri deal be cancelled.

However, Minority leader Haruna Iddrisu argued that the move to take the urgent motion is not in accordance with the standing orders of parliament hence Mr Hammond should rather seek redress in court.

Speaking at a press conference on Wednesday, July 26, the Tamale South MP was of the view that Mr Hammond was part of the previous parliament which passed the deal and so wondered why he was making a U-turn.
"I should think the appropriate forum for him is to go to court to attack the fundamentals of the terms of the contract which is in force and not to sleep and just wake up and say he wants a rescission order by parliament," he stated.

"We want to know the particular standing orders that he is revoking because the only part of our standing orders where rescission is mentioned is around Standing Order 93 which refers to current session," he said.