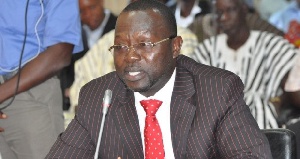 Former Deputy Attorney General Dr. Dominic Ayine has said he fears the Criminal Investigations Department (CID) of the Ghana Police Service may frame him in connection with a probe into the controversial $510million power deal between the Mahama administration and private firm Africa and Middle East Resources Investment Group's (AMERI Energy).
Armed with a warrant, the CID searched the home of Dr. Ayine on Friday and seized his phones and laptop as part of efforts to unearth incriminating evidence against him as he has been charged with causing financial loss to the state in relation to the deal which was signed while he was Deputy AG.

Apart from Dr. Ayine, the homes of former Power Minister Dr. Kwabena Donkor, former Deputy Power Minister John Jinapor and former Coordinator of the Emergency Power Programme at the Ministry of Energy, Francis Gyata, were searched in relation to the same probe.

They met the CID on Monday to write their statements. "No questions were asked … so I'm surprised that it is news today that we were grilled by the CID. I don't know how anybody can talk about grilling when no questions were asked," Dr. Ayine told Moro Awudu on Class91.3FM's Executive Breakfast Show on Tuesday, 1 August.

The Bolgatanga East MP said although his hands are clean, he fears the CID could tamper with his laptop and phones to frame him.

"I have nothing to hide and I just hope that when the warrant said I have caused financial loss to the state that is what they are investigating. If they are investigating other crimes, that would be grossly unlawful. And in any case, even if they are investigating other crime, I have nothing to hide.

"My only fear is that given what they are doing now, they could tamper with the laptop, hack into it, install emails that I didn't write, put matters there that I didn't communicate and so on and so forth, but I don't want to preempt anything. I just hope that the men and women of the Ghana Police Service who came and who are working on this case will have sufficient integrity to be able to say that: 'When they took my phones, these are the conversations that I had with anybody connected with the AMERI deal. And I can assure that none of those conversations concerned any act of criminality," he said.
He said the charge leveled against him "is based upon the government's own calculation of what the AMERI deal ought to have cost, not what in reality it cost, so for me, that is the basis of the reasonable suspicion."

"…The most worrying aspect" of the probe, Dr. Ayine said, is that: "I'm yet to come across a situation where the Attorney General's opinion becomes the subject matter of criminal liability; that an Attorney General issues an opinion saying that an agreement that has been entered into between a government agency and a private investor accords with the laws of Ghana, I had nothing to do with the sum of money that was agreed, I had nothing to do with the technical aspects of the agreement, that was the work of technical people from VRA, GRIDCo and so on, the Power Ministry and so on, so if an Attorney General issues an opinion and you say that that opinion has caused financial loss to the state, I'm yet at a loss as to why.

"I just hope that they are not using that as a basis to raid our houses in a bid to fish for evidence of other crimes; that would be very unprofessional," he noted.

According to him, "after having come from a very poor background to achieve the status of a law lecturer and a practitioner, I have sufficient means to support myself, I don't need to do anything untoward in order to be able to enjoy life, so I never engaged myself in any deals that were inimical to the public interest and I was lucky to have a Minister who was so principled that she never engaged in anything that you would call bribery or corruption or anything, so that was an example that I followed and I would just hope that they would do the correct thing and make sure that they don't damage the reputations of people like me just because they want to score political points."