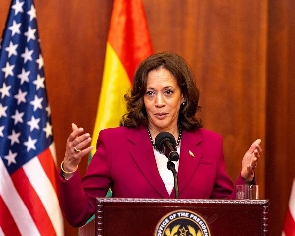 Thu, 30 Mar 2023 Source: GNA
Kamala Harris, US Vice President, has asked global investors to put their money into Africa's development innovations for economic growth across the world.
Ms Harris said Africa was endowed with innovations that could spur growth in science and technology, agriculture and clean energy, noting that African ideas and innovations were shaping the world and solving global problems.

"Before Venmo and Apple pay, there was Mpesa in Kenya, a mobile phone payment service that revolutionalise the digital financial system. Right now, African nations are pioneering the delivery of healthcare supplies by drone," she noted.

"In Rwanda, it [drone] has reduced the delivery time of emergency blood supplies, in Ghana, the service has delivered more than nine million vaccines, including those for COVID-19. The service has expanded to Kenya, Nigeria and Cote D'Ivoire," she added.

The continent of 54 countries is creating the world's largest free market under the African Continental Free Trade Area (AfCFTA), worth an estimated $3.4 trillion in Gross Domestic Product (GDP).

"We must invest in the African ingenuity and creativity, which will unlock incredible economic growth and opportunities," Ms Harris said, when she delivered her keynote address at the iconic Black Star Square, Accra, on Tuesday.
Making a case for global investment into Africa, she said, African nations played a critical role on issues of global importance, including food security, climate crisis, public health, and resilient supply chains, which were important to the American people, and the world.

"In South Africa, part of the world's largest radio telescope is under construction, which will help answer some of the biggest questions of humanity about galaxies and gravity," the Vice President noted.

She also cited the issue of Tanzania, which is set to host the continent's first facility that will process minerals for electric vehicle batteries, battery energy storage systems in Malawi, and fintech startups in Nigeria.

She said America's renewed partnership between Ghana and the rest of Africa, "will be guided by not what we can do for our African partners, but what we can do with our African partners."

The partnership with governments, the private sector, and civil society, she said, would together, address "the challenges we face and the incredible opportunities ahead through openness, candor, shared interest and mutual benefits".
"The Biden-Harris administration and the American people stand ready to partner with you, to help accelerate the innovations and entrepreneurship that is already underway," Ms Harris said.

She said access to digital services and the internet drove growth and created an opportunity for innovation, adding that once people were online, they had greater access to education, information, and financial services.

Ms Harris will end her three-day working visit to Ghana on Wednesday, March 29, and depart for a similar visit to Tanzania and end her week-long trip to Africa in Zambia, before returning to Washington.
Source: GNA