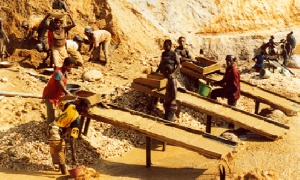 Some nationals of the United States of America are also engaged in illicit mining, also termed galamsey, in the country, hence the menace should not be blamed only on Chinese nationals, David Agbey, a security analyst has said.
According to him, there are others also from Israel, Turkey, Nigeria involved in the activity, however, discussions on foreigners involved in illicit mining in Ghana have been limited to Chinese.

He said all these nationals must be dealt with by the authorities for engaging in illegality.

Speaking in an interview with Emefa Apawu on the 505 programme on Class 91.3FM on Tuesday April 4, he said: "Go to the grounds and find out whether BNI officials are not involved in this galamsey business. You should go to the ground in the Western Region, all the districts where they are mining gold, whether BNI officials are not buying big equipment and whether they are not directly involved in this galamsey business.

"Within the security arena many of them are involved in this galamsey business, so the attempt should not be like it is a Chinese man or Chinese businessman who just jumped into a plane, came into this country and identified a certain land and forest somewhere.
"Ghanaians are the direct culprits – we are directly involved, the security agencies are directly involved in this galamsey business – and so we shouldn't close our eyes and be targeting only the Chinese. There are other indigenes: people from United States, people from Israel, people from Turkey, people from Nigeria, and people from neighbouring countries are all directly involved in this galamsey business."