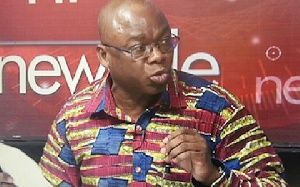 A former Chairperson of the African Union Advisory Board on Corruption, Daniel Batidam, has described the Office of the Special Prosecutor as a needless waste of public resources.
According to him, President Nana Addo Dankwa Akufo-Addo has failed to show commitment to the Office of the Special Prosecutor in the fight against corruption.

Mr Batidam said combating corruption in the country will take a lot more than the Office of Special Prosecutor to make strides.

Since assuming office as the Special Prosecutor in February this year, Mr Martin Amidu has bemoaned the lack of resources and cooperation from government appointees and institutions.

Speaking on Total Recall on Class91.3FM on Wednesday, 14 November 2018, Mr Batidam challenged the president to go back and implement the anti-corruption action plan passed by the previous government.

He told show host Benjamin Akakpo that: "If President Akufo-Addo wants to still do anything about the fight against corruption, there are a number of things he still has to do.

"The first of them is to go back to where President Mahama left off with the implementation of the National Anti-Corruption Action Pan and begin to engage the multiplicity of stakeholders including public institutions, public investigative bodies…
"The BNI, CHRAJ and others were beginning to work with understanding so that they will make their investigations more effective, more efficient in order to be able to enhance the prosecutorial aspect of our fight against corruption.



"So, it's not about creating offices. What President Akufo-Addo has done is a needless waste of public resources. He wants to give excuses to say: 'Look, I'm committed, I've appointed a Special Prosecutor,' but you have heard Mr Amidu himself say it is not enough to appoint him as Special Prosecutor, there are a lot of other pre-conditions including the L.I. and also the body language of people in government."

Meanwhile, the government has allocated GHS180 million to the office of the Special Prosecutor to help it function effectively.

This was announced by Finance Minister, Ken Ofori-Atta in the 2019 Budget statement on Thursday, 15 November 2018 in Parliament.