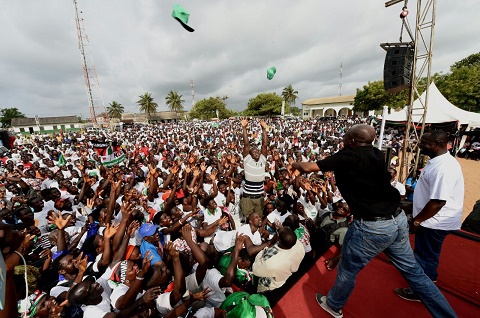 Fri, 11 Nov 2016 Source: Maxwell Okamafo Addo
As part of his four-day campaign tour of the Western Region, Vice President Kwesi Amissah-Arthur has inaugurated a two point two million Ghana cedi water facility for the people of Esiama and its surrounding communities in the Ellembelle constituency.
It comes with 18 stand pipes, four pumps and an overhead tank.

Mr. Amissah-Arthur said since water is life and he who gives water gives life that is a reason the people of Ellembelle must vote massively for President John Dramani Mahama as President and Emmanuel Armah Kofi Buah, who is also the Minister of Petroleum.

On the third day of his Western Regional campaign tour, Vice President Amissah-Arthur visited Tikobo Number One, Esiama and Axim in the Jomoro, Ellembelle and Evalue-Ajomoro-Gwira constituencies where he received rapturous welcome, with the people calling him 'akonta' or brother-in-law because his wife, Matilda, hails from the area.

Mr. Amissah-Arthur addressed hundreds of enthusiastic NDC supporters in the three constituencies and introduced to the people the three parliamentary candidates of the NDC - Thomas Yankey-Jomoro, Emmanuel Armah Kofi Buah-Ellembelle and Kweku Tanikyi Kessie-Evalue-Ajomoro-Gwira.

He said government is delivering on its social contract with the people by providing them critical infrastructural needs to boost their local economies.

The Vice President who is also the running mate of President Mahama said the President needs another for year term to continue with the country's massive development.
He said President Mahama as the leader of the NDC has brought unity, peace, and tranquility into the party and the country as a whole.

He said President Mahama is also tolerant of dissenting view which is the opposite of Nana Akufo-Addo and his NPP.

Therefore, a leader who cannot tolerate dissenting views and unite his party but rather divided it must be rejected by Ghanaians at the polls.

Mr. Amissah-Arthur said the NDC understands and lives by the tenets of democracy and rule of law.

The Acting Chief of Esiama, Abusuapanyin Koran Gyeni, thanked government for given the community its fair share of development. In view of this, he endorsed President Mahama and urged Ghanaians to vote massively for him for another term.
Source: Maxwell Okamafo Addo