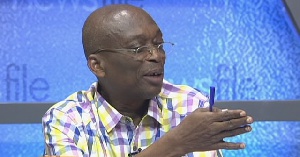 Editor in-chief of The New Crusading Guide, Abdul Malik Kweku Baako says Anas Aremeyaw Anas and his Tiger Eye PI will not hesitate to show his latest exposé on British Broadcasting Corporation [BBC] if any individual succeeds in seeking a court injunction against the public preview of the latest undercover piece.
"If they don't want us to show it here [in Ghana], we know where to seek that relief," he said.

Tough-talking lawyer Captain (rtd) Nkrabea Effah Dartey together with NPP's Assin Central MP Kennedy Agyapong have threatened to place a court injunction on the latest undercover investigative piece by Anas Aremeyaw Anas.

Their threat comes after an order by President Nana Addo Dankwa Akufo-Addo to the Criminal Investigations Department (CID) to arrest President of the Ghana Football Association (GFA), Kwesi Nyantakyi who was implicated in the Anas video for questioning.

The Anas exposé on football dubbed 'Number 12' has also implicated several people in the football fraternity and some politicians.

Kennedy Agyapong in a series of interviews accused the award winning investigative journalist of "trapping" the GFA president to tarnish his reputation.
Mr. Agyapong is worried if Anas is not stopped, he may end up invading the privacy of people and filming them in their bedrooms.

But, speaking on PEACE FM's morning show Kokrokoo, Abdul Malik Kweku Baako noted that the hottest Anas Anas exposé is "a joint Tiger Eye – BCC project. So if anyone succeeds in placing any form of injunction on this particular project on Wednesday [June 6], it will be shown outside the country on BBC. This is an exercise in futility"

"My appeal to people who have been mentioned in the view to have courage to watch it and prepare to face all the consequences," Baako told host Kwami Sefa Kayi.