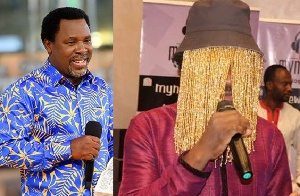 It is being revealed by his close associates that Anas Aremeyaw Anas the ace undercover journalists, visits T B Joshua undercover for prayers and powers.
It is said he does so once every three months and that before the case of the judges came out for instance, Anas had traveled to the Synagogue Church of All Nations (SCOAN) for protection against the powers that be.

The friend who said he travels mostly in his company said Anas normally comes back home with gallons of anointed water from TB Joshua which he bath and he offers really big money to TB Joshua for lots of gallons of his holy water for his protection.

According to him, the most recent visit to the Synagogue was in February 2018. He said when they went to the synagogue, T B Joshua told Anas that he had to do away with the other powers that propelled him and take Christ fully as his personal savior instead of just coming for Christ's powers, yet all attempts to exorcise him failed.

Anas, according to the reporter, was prayed for in an atmosphere where others were falling and confessing but he did not fall. He said even he who was not being prayed for, fell on the ground but Anas alone would not fall. TB Joshua therefore smiled and said, "The spirits in you seem to be in link with God too. This is a very uncommon situation."
Upon further prayers, the friend said Anas fell into a trance at last and began to say he was the crossbreed of both God and Satan so they were both on his side.