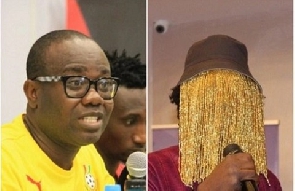 A member of the legal team of investigative journalist Anas Aremeyaw Anas, Sammy Darko, says after all said and done, the Ghana Football Association (GFA) will be chased to cough up at least GH¢20,000 for work done.
This is in connection to an undertaking given by the former President of the GFA, Kwesi Nyantakyi, in November, 2017 that an incentive to the tune of GH¢20,000 will be handed to anyone who provides evidence on corruption within the Association.

"One of the things that we will be doing come next season is to discourage corruption," Mr Nyantakyi told journalists in Cape Coast after a three-day brainstorming summit.

"This act involves two people, without one reporting, you can't hold any one responsible. So we are putting aside GH¢20,000 as an incentive package for whoever reports with evidence."

The figure was even upped to GH¢30,000 in the communiqué released after the summit.

Speaking on 3FM's morning show, Sunrise, on Tuesday, Mr Darko said he will personally move to the GFA to demand the payment.

The money will be multiplied by the number of evidence adduced by Anas, he said.
The money could be given to charity, he added.

Nyantakyi escaping?

He pointed out that what Mr Aremeyaw Anas did was according to pure journalism practice and Mr Nyantakyi and others are trying to shift attention from the core issues.



Mr Darko claims the former GFA President wants to confuse the issues to win sympathy from the court of public opinion.

He dismissed the issue of entrapment, noting that Mr Nyantakyi as a FIFA officially blatantly breached the regulations of the football governing body.
"We are helping him escape," he said about audience given to Mr Nyantakyi's side of the story.

"What is the issue now is that as the GFA President you are not supposed to take gifts. And if you take gifts you must declare."

But Mr Nyantakyi did not declare all this and has only been contradicting himself.