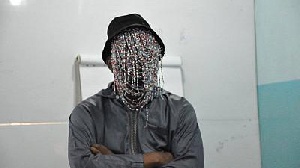 A renowned preacher man has prophesied the imminent demise of award-winning journalist Anas Aremeyaw Anas.
The man of God has thus warned the boss of Tiger Eye PI to undergo some spiritual cleansing to avert the impending calamity, failure of which may lead to his untimely death.

According to concise report sighted on mynewsgh.com, the man of God is said to have declared that Anas Aremeyaw Anas' life could be cut short on November 30.

The man of God known to be precise in his prophesies pleaded anonymity because of recent death predictions about celebrities.

The pastor explained that Anas' death is directly linked to his mother's death emphasizing that his mother knew the source and extent of his son's powers.

Further expatiating on the matter, the prophet said Anas and his mom had entered a blood covenant with the devil, which was to wane if she died.

But per the prophet's accounts, Anas flouted some of the rules leading to the death of his mother, who otherwise would have lived beyond ninety.
He added that, Anas flouted some of the spiritual rules, and this led to his mother's death as an act of revenge from the gods who had empowered him. The prophet said when Anas realized that he had made an error which would cost his mother her life, he tried to appease the powers that be with a sacrifice of 12 cows at their shrine in Mali but was told it was too late.

He established that Anas knew way ahead of time that his mother would die as a result of his disobedience, hence the reason he couldn't attend her funeral.

So he had known that his mom would die long before she did, but could do anything about it. "This is the reason Anas was not able to behold his own mother's corpse was because his mom's spirit was so angry it would have struck him if he neared her corpse," the prophet said.

He disclosed that not only does the award- winning journalist belong to the Illuminati, he has been intertwined in an intricate loom of many spiritual commitments which are now haunting him as he could not satisfy the demands of the many spirits he serve.

It's on these accounts that, he said, Anas would not live long unless his family came to see him (the prophet) to pray for them. He indicated that he was at the funeral grounds of his mother and had already made contact with his family.

The family of Anas according to the man of God knows the entire truth behind the rather immature death of the undercover journalist's mum at 61, especially the part that it was a direct result of Anas' known involvement with the Illuminati which they had warned him about.
Now, the family of the Anas who cannot bear to lose him as well, have agreed to do whatever they can to save his life.

In principle, the family has agreed to bring the following items to see the prophet: three cola nuts, sand in which Anas' feet had been imprinted, two white calico cloth materials, 32 snails, four mice, three black cats, four white cats, the good old red under-pant of women of old, a lock of Anas' hair and sample of his urine.

Though the pastor would not disclose the cash involved, insiders say that he had mentioned an amount of GH¢60,000 to appease the angry gods. While the family is seriously seeking these items to prevent further deaths in the family, however, Anas does not seem willing to cooperate. "He does not seem ruffled enough to provide the needed urine and lock of hair, as suggested by the revered pastor" his distraught sister, Deladem complained bitterly.

"He says nothing could bring our mother back and he was not dying today nor tomorrow so we should stop worrying ourselves", a family member lamented.

Meanwhile, according to the prophet, the earlier the items were brought, the better, otherwise nothing would save the life of the ace investigator. A close aide of Anas has however said that Anas is a spirit and would never die. He would only disappear. Nobody would ever see his body. And he would certainly not die now.