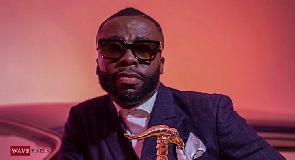 Ace disc jockey and radio presenter Andy Dosty has recalled an incident with a radio station owner, describing the encounter as his worst experience in the field.
The veteran who started his trade with Radio Mercury in Kumasi said aside from the fact that he never received remuneration, the owner who was a chief, treated him with contempt.

"My first radio job was with Mercury but the man never paid me. He was a chief. I think of all the workers, I was the one he never appreciated," Andy said on The Delay Show monitored by GhanaWeb as he recalled how the owner once dictated to him.

"My worst experience was when I was on radio playing songs. He approached me and asked: 'what kind of stupid songs are you playing?'. I said it was a brand-new song from Tupac. He asked me to stop, handed over Kakaku's cassette and asked me to play that instead."

Explaining why the owner instructed him to play the Highlife song, Andy said: "His reason was he had some visitors at his office and they wanted to listen to Kakaku's song."

"When the song was about to end, I went to his office to inform him and to seek permission to continue with my playlist. He looked at me and said I should play the song on the other side of the cassette."

After working with Radio Mercury, Andy Dosty moved to Otec FM where he worked from 1998 to 2004. He later joined Despite Media's Hello FM but that was after working with its sister station Peace FM.
The decision of the owners of Despite Media to make him start work with Peace FM moving to Hello FM, according to him, was to know their system of operations.



Ghana's leading digital news platform, GhanaWeb, in conjunction with the Korle-Bu Teaching Hospital, is embarking on an aggressive campaign which is geared towards ensuring that parliament passes comprehensive legislation to guide organ harvesting, organ donation, and organ transplantation in the country.





BB