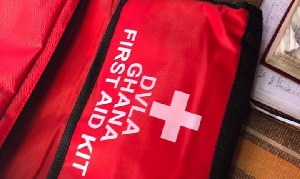 There is seething anger among vehicle owners over the newly introduced mandatory first aid toolkit charge by the Driver and Vehicle Licensing Authority.
The new charge which affects both private and commercial vehicles took effect Tuesday, January 2, 2018.

Per the terms of the new policy, vehicle owners who visit the DVLA to register their vehicles will have to cough out additional GHC108 to obtain a first aid toolkit.

It is unclear if the fee will also be charged on vehicles seeking to renew roadworthy certificates.
Meanwhile, the Minority in Parliament, according to Starr News sources is unhappy about the development and are calling on the government to rescind the move.

In the view of the minority, the charge for the first aid toolkit should be optional and not forced on vehicle owners.