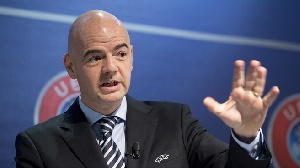 Angry senior South Africa Football Association (Safa) officials will travel to Switzerland in the coming days to voice their unhappiness with Fifa after the governing body ordered Bafana Bafana to replay their 2018 World Cup qualifier against Senegal.
Bafana beat the Senegalese 2-1 in Polokwane in November 2016' but the qualifier came under scrutiny after the West Africans reported controversial referee Joseph Lamptey's performance to Fifa.

Safa officials faced considerable criticism from the public after they announced on Tuesday that they would not challenge Fifa's decision on moral and ethical grounds of the association' which did not want to benefit from match manipulation' even if Fifa had established no wrongdoing on the part of South Africa.

Safa CEO Dennis Mumble said on Wednesday afternoon they were as unhappy as the nation's soccer lovers and he would travel to the Fifa headquarters with the association's legal committee head Norman Arendse to communicate the country's annoyance.

''The way it stands right now' we will replay the game as instructed by Fifa'" Mumble said.

''We are not formally challenging the decision (to replay the match) but we are going to register our concerns."

The controversial referee received a lifetime ban from Fifa for match manipulation but Mumble said they have since learnt that he is now challenging the decision in the Swiss courts.
''Should the courts find that Fifa erred in this matter' then clearly we have to also go in and assert our rights because we will also be affected by it'" Mumble said.

''As much as we agree that we have to stamp out corruption in football and we took the moral high ground here and agreed to the replay the match because we do not want to be recipients of a corrupt outcome' it doesn't mean that we should not raise these matters.

''These are very serious matters for the conduct of the game in this country."

Mumble said there are several other issues that do not sit well with them and they will let Fifa know exactly how they feel about the implications of the decision.

Safa were never asked to present their side of the story and they were given very little information until Fifa dropped their bombshell last week.

Another thing' the rules require teams to register protests within two hours after the completion of a match and there is suspicion that Senegal did not meet this deadline.
Mumble said they are leaving the door open and even though they have agreed to replay the game' they could still go the legal route and challenge the decision.

''We are leaving the door open and if anything changes' clearly we will also have to reassess our position in this respect.

''We still believe it was the right decision to actually support the replay of this match' but at the same time we must still raise our concerns.

''If there is a legal way for us to do that' clearly we are not going to sit back and fold our arms."