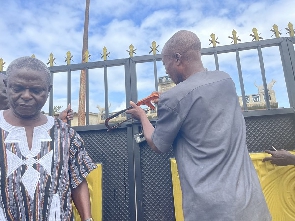 Correspondence from the Central Region
The chiefs and leaders of the Abura Abakrampa traditional area have angrily opened their 'Posuban' for protection, raining curses on the unknown persons who locked the gods up.

The 'Posuban' which served as a settlement for all gods within the area was locked up without the knowledge of the Tufohene, who was the caretaker of the place some days ago.

The acts brought fear and panic among the people knowing there might be consequences of the unknown persons' act on the community.

However, it was alleged that the Omanhen of the area locked the 'Posuban' for reasons best known to him without informing anyone.

Nana Osa Amoyaw II, Tufohene of Abura Abakrampa in an interview with Ghanaweb noted that the act was uncalled for as the gods were the protectors of the community

Therefore, locking them up could result in spiritual implications which would not be a good thing for the community.
Nana noted that there was a need to unlock their gods for protection and development in the community.

Nana Kum Gyata VI, the Ankobeahen of Abura called on investors to come to invest in the community for growth and development.

He pleaded with the Omanhen to embrace all chiefs in the area to foster peace and stability in the community.

The Ankobeahen urged the youth to desist from being used for unscrupulous activities that could cause harm to their lives.