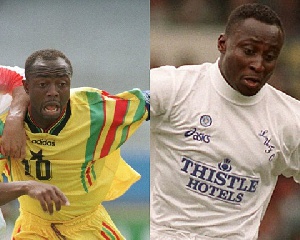 After more than two decades since one of Ghana's most gifted sides missed the African Cup final, amid rumours about unhealthy rivalry and bruised egos among the top players, Anthony Yeboah has finally opened up on his rumoured bad relationship with then captain Abedi Pele and alleged split in the star-studded Black Stars team which lost to Cote d'Ivoire in a marathon penalty shootout in the final of the 1992 AFCON.
"In the team, we were all colleagues and so there was no gang in the team as was speculated. There was no 'Abedi gang' or 'Tony Yeboah gang' that undermined the forward match of the Black Stars during our era," the football legend told the Graphic Sports in an exclusive interview in Kumasi.

It has been suggested that the unhealthy rivalry between the team's top stars, Abedi and Yeboah, created a split in the team which prevented Ghana from winning laurels. However, Yeboah has cleared the air, saying he was close to Abedi and the other members of the playing body . He was quick to add that each of the players in their era had strong ties with specific players, depending on their age, ethnicity and social background, "but it never affected our commitment and unity on the field as well as our national responsibilities"

"On the field of play, we always played as a team ,and showed much loyalty and commitment to the national cause, so there was no form of disunity between I and Abedi as was speculated by football fans. We were colleagues in every sphere and played different roles with the aim of winning trophies for Ghana.

The former Eintracht Frankfurt, Leeds United and Hambur SV striker, who scored 29 goals in 59 appearances for Ghana, said some players formed special bonds with others and stayed closer together, citing the close friendship between himself and Frimpong Manso as a case in point.

"As Kumasi-based players, we played together at Young Kotoko during our colts era, joined Neoplan Stars together before moving to Kumasi Cornerstone where we caught the attention of the public. When we were invited to play for the Black Stars, Frimpong Manso was more than a friend to me and we did everything together," explained Yeboah.
"Abedi also had similar friends when we met in the Black Stars, so it was only natural that some players were closer to others but it never affected our performances on the field of play in any of our matches."

Explaining further, Yeboah said in his early stages with the Stars in 1982, he met players like George Alhassan, Francis Kumi, Opoku Afriyie, Abdul Razak and Kofi Abbrey, among others, who were them in a class of their own. He only bonded with players of his age group and class and hardly mingled with the older players such as Alhassan and his group due to the great respect he accorded them.

Many years after retiring from active play, Yeboah has discovered a passion for golf and is loving his new life on the golf course.

" To be honest, I am so addicted to golf and have won many trophies. I never knew that it was a fantastic game; I had a wrong perception that golf was for old men and never went closer to even watching golf when I was playing football.

"I have grown to love it as a special game and spend almost all my time training and playing in matches to keep myself in tune with it."