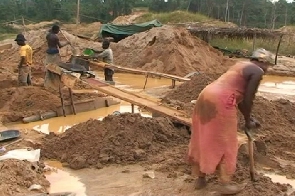 The Anti-Galamsey Taskforce operation led by District Chief Executive (DCE) Robert Agyemang and the District Police Commander has led to the arrest of four illegal miners and the retrieval of two weapons at Twifo Atti-Morkwa.
The victims were caught engaging in illegal mining activities popularly known as galamsey in the area.

According to a citinewsroom.com report, the task force seized all equipment used for illegal mining activities after making the arrest.

The team visited various communities in the area including Darmang, Maafi Wawase, and Kojokrom where galamsey activities had been muddying the Pra River.

Musah Wangara, 34, Isaac Owusu, 48, Musah Alhassan, 27, and William Toku, 34, are the three suspects currently in police custody awaiting the outcome of police investigations, citinewsroom.com reports.

Robert Agyemang, the DCE in the area noted that his outfit has tried on several occasions to halt the activities of illegal mining in the district but has not been fruitful.
He indicated that the Anti-Galamsey Taskforce will help to bring an end to the menace of illegal mining activities in the area to safeguard their water bodies.

He warned that; "Anyone who decides to set up illegal mining equipment will not have an easy time with us," citinewsroom.com quoted him as having said.

Robert Agyemang further called on the residents in the community to support the assembly in its quest to bring an end to illegal mining activities.

He appealed to the government to furnish them with a speedboat to monitor the activities of illegal mining.

"We don't have any devices to monitor the activities of illegal mining. The Ministry of Lands and Natural Resources is doing its best, but we hope they can provide us with a speedboat to monitor the activities around the Pra River," he said according to city newsroom.com
BS/OGB

Ghana's leading digital news platform, GhanaWeb, in conjunction with the Korle-Bu Teaching Hospital, is embarking on an aggressive campaign which is geared towards ensuring that parliament passes comprehensive legislation to guide organ harvesting, organ donation, and organ transplantation in the country.

Watch the launch of the 2023 GhanaWeb Excellence Awards on GhanaWeb TV below: Click here to start the nomination process for the 2023 GhanaWeb Excellence Awards Watch Mintah Akandoh passionately call for legislation on organ transplantation on The Lowdown on GhanaWeb TV below:

Meanwhile, watch Etsey Atisu's interview with Fati Ali, the first female GIJ SRC president, on #SayItLoud on GhanaWeb TV, below:




You can also watch the latest episode of Everyday People on GhanaWeb TV below: