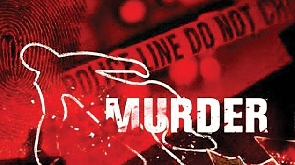 The family of the 18-year-old girl who was allegedly murdered at Anwiankwata in the Ashanti Region has said that they suspect their daughter was used for "galamsey rituals".
Some members of the family claimed they rushed to the scene after residents in the area discovered the lifeless body of the deceased and alleged that some body parts of the girl were missing.

Background

18-year-old Abena Georgina was allegedly raped and killed by some unknown assailants at Anwiankwata on Saturday, September 16, 2023.

The lifeless body of the deceased was found in an uncompleted building, half-naked with blood oozing from her deformed face, as a result of the brutalities she received from her assailants.

Reasons for suspicion
One of the family members, Nana Kwarteng Amoaning, who is also the Akwamuhene of Anwiankwata in an exclusive interview with OTEC News reporter, Jacob Agyenim Boateng, on Monday, September 18, 2023, said the family while searching for the deceased on the very day she went missing heard she was picked by a galamseyer in his private car before her death.

"We have been told that our daughter had a lift from a popular galamseyer who offered to drop her off at the house in his private car".

"The galamseyer reportedly picked her on his black private car, Abena then went missing only for us to discover she has been murdered by unknown assailants", he said.

Arrest

Nana Kwarteng Amoaning however revealed that a suspect has been arrested in connection with the alleged murder.
The suspect, Mary is an 18-year-old hairdresser who is said to be a friend of the deceased.

According to him, Mary was the one who introduced the deceased to the yet-to-identified galamseyer.

He noted that both Mary and the deceased were reported to have boarded the car together before Abena was eventually murdered.

Following this, police in the area invited her to testify but was arrested upon arrival at the station.