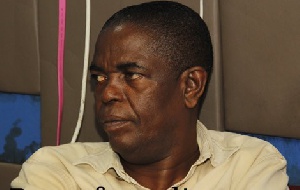 Managing Editor of the Insight newspaper, Kwesi Pratt Jnr., has asked members of the opposition New Patriotic Party (NPP) to be mindful of their utterances because of its dangerous repercussions.
Mr. Pratt was commenting on the just ended NPP Regional Elections conducted over the weekend and the controversies that came with it.

Contributing to a panel discussion on Tuesday's edition of 'Kokrokoo', he underscored the need for NPP members to stop saying 'No Nana No Vote'.

According to him, 'any party member who says no Nana no NPP does not love the party' because such comments mean Nana Akufo-Addo is bigger than the party.

"Nana is a human being like all of us, and even if he lives up to the age of 600, he will still leave the surface of this earth and so if the "No Nana No Vote" slogan continues, it can have dire consequences. If they insist on winning the 2016 elections, they should stay away from such comments," he suggested.
Kwesi Pratt also cautioned politicians to be mindful of how they encourage the use of money to win an election.

He alluded that if such an act is encouraged, politics will be for only the rich while the poor is relegated.

"When the NPP decided to expand their Electoral College, we commended them for it because we said it would reduce buying of votes, but look at what is happening now; it doesn't paint a good picture of politics…if it continues that way, very soon politics will be an enterprise for the rich," Pratt added.