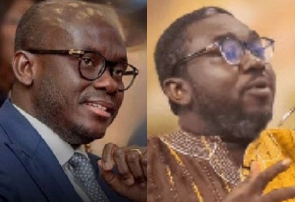 The lead convenor of the #FixtheCountry* movement, Oliver Barker-Vormawor, has described the Attorney General and Minister of Justice, Godfred Dame, as a 'lucky man'.
According to him, the Attorney General is so lucky because he has found a way to rewin all the political cases he lost in court in the past.

In a tweet shared on Tuesday, April 7, 2023, Barker-Vormawor said that Godfred Dame somehow re-wins cases he lost in the past when the judges are changed.

"Anytime the Attorney-General loses a political case in Court, the judge is changed, and he wins again. He is a very lucky man," he wrote.

Barker-Vormawor's remarks come after the Court of Appeal reversed the decision of the Accra High Court to conduct a fresh trial for former COCOBOD boss Dr. Stephen Kwabena Opuni and businessman Seidu Agongo.

On Monday, July 3, 2023, a three-member panel of the court delivered a unanimous verdict, stating that the trial High Court had erred in its decision not to adopt the previous proceedings of the six-year trial when a new judge assumed responsibility for the case.
But this is after the high court judge who gave the ruling for a fresh trial, Justice Kwasi Anokye Gyimah, was transferred by the Chief Justice.

This decision by the Court of Appeal signifies that the trial will now proceed based on the existing proceedings and evidence gathered throughout the duration of the trial.

The Accra High Court's reversal indicates a step towards continuing the legal proceedings against Dr. Opuni and Mr. Agongo without starting from scratch.

Justice Aboagye Tandoh has now been appointed to preside over the case, making him the third judge on the case after the first judge, Justice Clemence Honyenuga, retired and handed over to the now-transferred Justice Gyimah.

View Barker-Vormawor's tweet below:
Anytime the Attorney-General loses a political case in Court, the judge is changed and he wins again.

He is a very lucky man.

— Osagyefo Oliver Barker-Vormawor (@barkervogues) July 4, 2023
BAI/SEA
Watch the latest episode of Everyday People on GhanaWeb TV below: