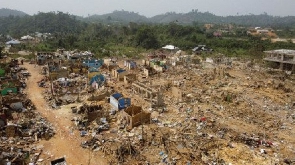 Joseph Kwabena Arhin, a survivor in the terrible disaster that occurred in Apiate has narrated an emotional story a year after the accident.
17 persons died while 59 got injured huge explosion at Apiate, a town between Bogoso and Bawdie in the Western Region on 20th January 2022.

Apart from the deaths, the explosion destroyed several domestic and commercial properties.

Some residents of the area who were unhurt had to run for their lives.

The preliminary investigation established that a mining explosive vehicle moving from Tarkwa to Chirano mines collided with a motorcycle resulting in the explosion. Speaking in an interview with host of Atinka FM's AM Drive, Kaakayire Ofori Ayim, Joseph Kwabena Arhin who is still bedridden as a result of the accident said he was enroute Takoradi from Wassa Akropong when the incident occurred.
Joseph Kwabena Arhin, who used to work until the accident, said mentioned that when the bus that he was on got to Appiatse the passengers realized that a tanker vehicle was on fire and that it had caused a huge vehicular traffic on the road.

"I was a student of the Accra Institute of Technology and was preparing for my final exam. I decided to return home to Takoradi to see my family as I work Wassa Akropong before proceeding to Accra for my exams. When we got to Appiatse, we realized there was heavy traffic and a tanker vehicle was on fire and so we asked our driver to stop. After a while our driver wanted to proceed but we didn't allow him. Eventually all the passengers on the bus had to alight and wait for another bus after the driver pleaded with us that he had to go to Obuasi."

"Few minutes after we had alighted, the tanker exploded and the whole place became dusty and everyone was screaming for help. I was however still standing and people around were all lying and so I decided to go and help that was when I realized that I had lost a limb," Joseph Kwabena Arhin narrated to Kaakyire Ofori Ayim.