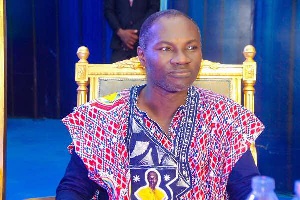 The Ranking member on the Gender committee in parliament Hajia Laadi Ayishetu Ayamba, has condemned ethnocentric comments by Head Pastor of Glorious Wave Church International, Prophet Emmanuel Badu Kobi, and has called on him to apologise.
This follows severe backlash that has greeted a viral video in which the preacher is heard advising men in his congregation to desist from marrying from certain tribes since per his research, they are foolish, dormant and inherently money conscious and unmarriageable.

"Fanti women are foolish sometimes and Ewes too are doormats. But for Ashanti women no!...If you marry Ashanti lady, you have imported problem for yourself forever. I have done research and it is so and I'll never marry an Ashanti woman…" Prophet Badu Kobi told his church members.

Many Ghanaians have reprimanded the prophet for his outburst with the latest being the women caucus in Parliament.

Commenting on the Prophet's statement in an interview with Class News, Hajia Ayamba, who is also the Member of Parliament for Pusiga, said the statement is "unacceptable".

"What he said is not acceptable, it was a sweeping statement, it is ambiguous, it is not fair not even on the women but even on those tribes that he mentioned. You cannot lump people and just say whatever you want to say, that notwithstanding, there are individual differences," Hajia Ayamba stated.

She continued: "Whatever you might be thinking about a particular tribe or the women of a particular tribe does not mean that it applies to everybody so that is not acceptable and these are women, so we condemn it in no uncertain term because a woman is a woman and we are all women no matter which tribe you're from.
"We don't have to accept the kind of things that he said. A woman gets married because of love not necessarily because of property and I think we women should condemn it in totality and ask him to apologise".

Meanwhile, Prophet Badu Kobi has said he remains unperturbed about the backlash.