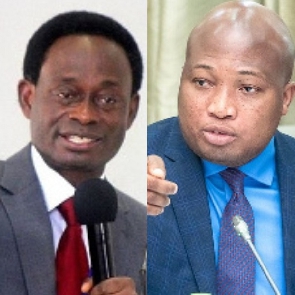 The Chairman of the Board of Trustees of the National Cathedral of Ghana, Apostle Prof. Opoku Onyinah, has slammed the Member of Parliament for North Tongu over his accusation of corruption in the construction of the cathedral.
Prof. Onyinah said that if Samuel Okudzeto Ablakwa truly has evidence of corruption in the project, he should use the appropriate means to get those involved arrested.

He added that he (the MP) should stop using issues surrounding the cathedral to become popular.

Speaking in an interview on Okay FM, on Friday, May 27, 2023, monitored by GhanaWeb, the former chairman of the Church of Pentecost added that he and the other clergymen are still part of the project because there is nothing untoward with it.

"The things people are saying are not the truth. Because we the trustees have not seen any corruption going on with the project… we have now contracted a renowned auditing firm, Deloitte, to look into our books, so we are not afraid of anything.

"But what we are urging is that we have laws in this country, and if something is not going well, you have to apply the laws. So that if someone has truly embezzled monies meant for the project, the person will be arrested and prosecuted.
"If something is truly going on, you don't just publish them just to become popular. These issues should not be used for a popularity contest, channel them through legal means," he said in Twi when asked about Ablakwa's allegations.

The clergy also said that the National Cathedral of Ghana, when completed, would become the face of Christianity in Africa.

Background:

Ablakwa, in his latest exposé on the National Cathedral, alleged that the American consultant to the National Cathedral project gave an official address that leads to a warehouse.

He said that when he visited the facility during his trip, he saw no offices but rather: "a ramshackle warehouse with the inscription: Churchill Coffee Company, Wholesale Division."
"We also decided to embark on the long travel to Springfield in Missouri where Mr. Cary Lee Summers who has been given US$ 6 million of our money is described on the National Cathedral of Ghana website as 'Consultant for the United States'.

"When we arrived at that address, there was nothing about the Nehemiah Group. We surprisingly saw quite a ramshackle warehouse with the inscription: Churchill Coffee Company, Wholesale Division," he added.

The MP also said that Eric Okyere Darko, a member of the legal team of Assin Central Member of Parliament, Kennedy Agyapong, was listed as a trustee on the Ghana National Cathedral in Washington DC registration documents in the United States.

The MP stated in his social media post that per his checks, the project's registration details in Ghana differed from what he got from that of the US.

Also, whiles eminent clergymen were dominant on the Board of Trustees in Ghana registration papers, in the case of the US, there were three persons.
The only common personality on both sides is Dr Paul Opoku-Mensah, the Executive Secretary to the National Cathedral of Ghana project.

Watch the interview below:



You can also watch the latest episode of People & Places:






IB/OGA