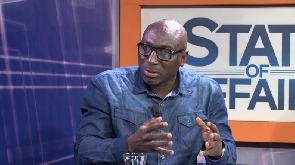 The National Democratic Congress [NDC] has filed a criminal complaint against Abetifi Member of Parliament Bryan Acheampong over recent comments the party deems inflammatory and inciting to possible electoral violence.
The petition follows a statement on April 9 from the NDC General Secretary expressly condemning Acheampong's infamous 'we will never hand over power to the NDC' comment at a party event at Kwahu, Mpraeso on April 8.

The petition dated April 11, 2023 is addressed to the Director of the Criminal Investigations Department of the Ghana Police Service with the petitioner being Abraham Amaliba, the NDC's Director of Legal Affairs.

The petition cited the tendency of a statement as that of the MP, who is also the agric minister, to trigger political violence and civil unrest.

The NDC said the same speed with which the police arrested people at their congress late last year and also arrested its youth organizer in Suame, should be displayed by the police because Acheampong's comments were almost the same as the one for which the youth organizer is before the courts.

"Your petitioner craves your attention and prays you by way of bringing of this petition to you to cause the arrest, investigate, charge and put before Court Hon Bryan Acheampong for his reckless, dangerous, instigating and unparliamentary coments.
"That in all these, Your Petitioner is of the view that the pronouncements of the Hon. Bryan Acheampong as a Member of Parliament and a sector minister are so serious that it must not go unquestioned lest it becomes a harbinger for civil unrest."

Aside the Police, other public offices copied include the Speaker of Parliament, the National House of Chiefs and the National Peace Council, the Inspector General of Police, Christian Council, National Chief Imam and the Catholic Bishops' Conference.





Watch the latest episode of The Lowdown below:


Watch the latest episode of People and Places below:



SARA