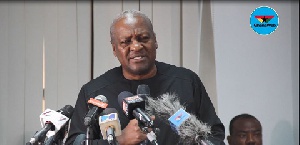 The Editor-In-Chief of the Informer Newspaper, Andy Kankam has taken former President John Dramani Mahama to the cleaners.
He asserts that the former president disrespected the National Democratic Congress' (NDCs) structures when he organized his walk. The recently held peace walk organized by Mr. Mahama he alleged was not sanctioned by the party.

Speaking to Kwame Tutu on Rainbow Radio 87.5Fm, Andy Kamkam described the peace walk as needless as it failed to even unite party supporters but rather divide it further.

He was reacting to a publication in his Wednesday edition of the Informer newspaper where a former MP, Mr. Dan Abodakpi, has lambasted former President Mahama for organizing a needless walk. The walk he insisted was not sanctioned by the party and for Mr. Abodakpi to express such an opinion means that, he [Mr. Mahama] has failed to respect the party structures.

He said, for people to see the peace walk as a strategic approach to our re-branding is problematic.

Andy Kankam said, I am reliably informed that the party has in place a structure and people to work towards the rebranding of the NDC, but the peace walk by Mahama, was not within the structures of the NDC.
That kind of attitude he lamented was part of the problems that caused their defeat. He said if people continue to disrespect party structures, they will not take it easy.

The paper quoted Mr. Abodakpi as saying ''what is this charade of a unity walk? Is that the best way to take responsibility for the acts of omissions and commissions that led to last elections?

Are these so called walks the party's strategic approach to redefining and rebranding ourselves to convince our teaming supporters and Ghanaians at large that we have indeed purge ourselves of the arrogance that got associated with us during our tenure? ''I am not in the habit of talking to the platform to express my frustration about how we have conducted the affairs of our party in and out of government.

But I think the time has come for all us to re-think and come to the realization that we need to chart a new strategic path in order to have trust and confidence restored in us as a political entity.''