As a demon who should I see for deliverance, Prophet Adu Gyamfi or Rev Kusi Boateng? – Ablakwa mocks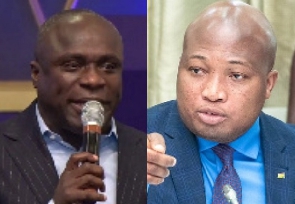 The Member of Parliament for North Tongu, Samuel Okudzeto Ablakwa, appears to have taken a swipe at the secretary to the Board of Trustees of the National Cathedral of Ghana, whom he has accused of operating under the pseudonym Kwabena Adu Gyamfi for criminal purposes.
Rev Kusi Boateng, while addressing members of his Church, posited that the current scrutiny he is facing, due to corruption allegations with his role in the construction of the National Cathedral, is part of the trials he must go through.

He said that the challenges he is going through are necessary for him to be successful.

"How can I go up without fighting the demons in the air? And so, stop all these fights and all these arguments. The question is that, is your father okay? I'm 100 percent okay.

"The question is that, is your father happy? I'm super happy. The question is that, is your father going to go through this? I promise you that I will go through this honourably," he told members of his church, Power Chapel International, on Sunday, January 22, 2023.

Reacting to this in a tweet on the same day, Ablakwa took Rev Kusi Boateng's remarks to be addressed at him.
He asked why the man of God will refer to him as a demon as his exposé on the National Cathedral project froms part of his duties as a parliamentarian.

The MP went ahead to sarcastically ask which of the personas of the clergyman he should go for deliverance as a demon.

"How does a harmless MP carrying out his constitutional mandate of oversight become a demon?

"Okay, so as a demon who should I see for deliverance? Seriously, do I contact Prophet Kwabena Adu Gyamfi or Rev. Victor Kusi Boateng?" parts of the MP's tweet read.

View the MP's tweet plus a video of Kusi Boateng's remarks (from 40:00) below:




IB/FNOQ