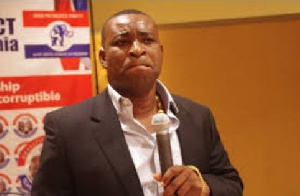 Aspiring deputy communication officer for the opposition National Democratic Congress [NDC], Kwaku Asafo Agyei, has accused the governing NPP Ashanti Regional Chairman Wontumi of bullying yet another Member of Parliament of the party and forcefully taking his asset [a whole mansion] in Kumasi.
The vociferous communicator, alleged on Abusua Nkommo hosted by Kwame Adinkrah that the chairman disrespected the court ruling which clearly stated that Mr. Daniel Okyem Aboagye is the rightful owner of the disputed building which was auctioned to him by a court of competent jurisdiction by surrounding the said property with thugs who are purported to be members of the Delta Force, a vigilante group set up by him.

Kwaku Asafo Agyei, recounted that this is not the first the boastful chairman has bullied and manhandled his own party members especially those in parliament.

He recollected the accusations by former Member of Parliament for Asante Akyem North Kwadwo Baah Agyemang that chairman Wontumi was the prime brain behind his defeat in the NPP primaries after failing to yield to his demands to pay a supposed bribe to him Wontumi.
Again, he cited how the current Manhyia North Member of Parliament was mercilessly beaten by Chairman Wontumi and his thugs during the party's primaries prior to the 2016 general election.

Asafo Agyei is advocating that the President who is an astute lawyer calls Wontumi to order and advice to respect the decision of the court by evacuating his thugs and himself from the said property. The same Wontumi is alleged to have organised some NPP youths in Nyinahini,to prevent Exton Cubic from accessing their own legally acquired mining concession.

He concluded that the 'notoriety and reckless' nature of Chairman Wontumi in attacking people in his own party from Constituency Executives, party communicators and members of Parliament will cost the NPP greatly in the 2020 elections.