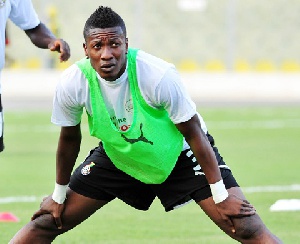 Ghana striker Asamoah Gyan has set his sights on a career in coaching once he decides to hang his boots.
Gyan has proven a man of different trades ever since he burst onto the scene in 2003. Known mostly as a professional footballer and a very good one at that, the BabyJet (as he is affectionately called) is also a successful businessman with several investments and a part time musician as well.

The legendary striker made his name by scoring loads of goals on the pitch and now sees no need in staying far away off it when he decides to call it quits.

The former Sunderland striker, now 34, says he fancies being on the touchline, giving out instructions and mapping out strategies to win football matches.

He told TV3 Sports, "honestly I will try and get a license in coaching, because I have the IQ in coaching. I know how to coach"

Asamoah Gyan believes he will succeed in coaching, just as he's done as a player. He has however admitted that he needs to go through the mill to ensure that.

"For me I can be a very good coach but I need to go through the processes", he said.
Throughout his career, Asamoah Gyan has played under several managers at club level. The story is no different as regards the national team.

He's worked with former Chelsea manager Avram Grant and current Newcastle manager Steve Bruce (Sunderland) but it is with two other coaches that he draws inspiration from to pursue his own career.

Cosmin Olariou (Romanian) and Zlatko Dalic (led Croatia to the 2018 World cup final) worked with Asamoah Gyan while playing for Al Ain in the UAE.

He says he learnt a lot from them and will definitely tap into that knowledge when his career as a coach commences.

"I have to combine everything. Honestly, I really like Cosmin Olariou, the coach who coached me at Al Ain. He is a Romanian, he's not well known in Europe"

"And then I learnt a lot from Zlatko (Dalic) the one who took Croatia to the final (at the World Cup 2018) He was my coach in Al Ain" he noted.