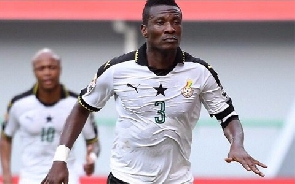 Former Ghana winger Laryea Kingston believes Black Stars skipper Asamoah Gyan is still valuable to the team despite the striker's recent absence.
Gyan, 32, has not played for Ghana since an injury withdrawal from the outfit ahead of a 2018 Fifa World Cup qualifier in Congo last September.

He is among the key players missing from coach Kwesi Appiah's latest squad for upcoming friendlies with Japan and Iceland.

"Asamoah Gyan is a living legend in Ghana football," Kingston told KweseESPN.

"The things he has done in a Ghana shirt deserve nothing but respect.

"Whatever happens, he will be vital for the Black Stars as the coach tries to build a new team.

"He has unbelievable experience at this level and Appiah needs him around to guide the young ones. But it is obvious that everyone is preparing for a Black Stars team without him. That is what has to be done.
"You can tell that when he comes to the national team, he is saving himself for the big days.

"He doesn't train every day and it is obvious that they are managing him better because as he ages and the injuries set in more often, you need that.

"I don't know how long he can keep going, but I hope the team continues to make the most of him."

Gyan, who made his international debut in 2003, is Ghana's all-time top scorer, having racked in 51 goals in 106 games.

The former Sunderland ace is one of just two Ghanaian players to have played at three Fifa World Cup tournaments.