Ashaiman brutalities: A 10-year-old girl was flogged for crying over abuse of her dad - Barker-Vormawor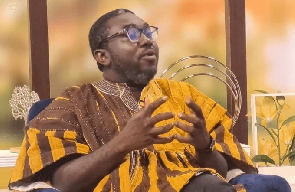 The lead convener of the #FixtheCountry movement, Oliver Barker-Vormawor, has said that a meeting he held with victims of the military brutalities seen in Ashaiman is revealing the extent of the horrifying experiences the residents went through.
According to him, it was disclosed at the meeting, which was held on March 12, that the soldiers were not only brutalising adults but also children.

In a tweet shared on Monday, Barker-Vormawor said that a 10-year-old girl was flogged by the soldiers for crying as they were beating her father.

"Yesterday we were at a community meeting with victims of the military brutality in Ashaiman which went into the late evening.

"A little girl of 10 years old was flogged, for crying after the dad who was being beaten! This is the democracy you claim to love but yet fail to defend!" parts of the tweet Barker-Vormawor shared read.
Meanwhile, the Ghana Police Service disclosed in a statement issued late Sunday, March 12, 2023, that six persons had been arrested for their suspected roles in the murder of a young soldier at Ashaiman Taifa on March 4, 2023.

The police are, however, on the hunt for the iPhone of the deceased, which, according to the statement, was the reason he was fatally stabbed by the first two assailants who attacked him early on March 4.

The statement said: "After almost a week of painstaking intelligence-led operations, on 9th March 2023, the police arrested suspects Safianu Musah alias Dayorgu and Ibrahim Abdul Rakib at their hideouts in Ashaiman.

The other suspects are, Samuel Tetteh alias Wiper and Abubakar Sadick alias Birdman, arrested at their hideouts on March 10, 2023. Whiles Yussif Mohammed and Abdul Gafaru Abdul Karim were arrested on 11th and 12th March 2023 respectively.
Soldiers conduct swoop in Ashaiman

Some soldiers invaded Ashaiman in the early hours of Tuesday, March 7, 2023, apparently in search of the murderers of their young colleague, Sheriff Imoro, who was allegedly lynched on Saturday, March 4, 2023.

Several videos of the incident, captured by some residents, went viral on social media.

In some of these videos, personnel hit and brutalised those outside their rooms.
The incident happened on the dawn of Tuesday, March 7, 2023, at Official Town in Ashaiman.

View Barker-Vormawor's tweet below:


Yesterday we were at a Community meeting with victims of the military brutality in Ashaiman which went into late evening.

A little girl of 10 years old was flogged, for crying after the dad who was being beaten!

This is the democracy you claim to love but yet fail to defend!

— Osagyefo Oliver Barker-Vormawor (@barkervogues) March 13, 2023
You can also watch this episode of People & Places here:
IB/SARA