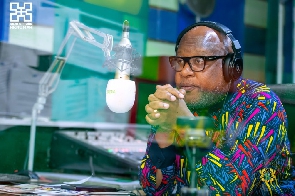 Host of Peace FM's morning show 'Kokrokoo', Kwami Sefa Kayi has sent a strong message to crusaders of coup d'état to let the military assault on residents at Ashaiman give them an inkling of what a coup in Ghana will look like.
Kwami Sefa Kayi, affectionately called 'Chairman General', warned against having a coup d'état in the nation, stressing a coup is no joke.

Some military officers invaded the Ashaiman community following the death of a young military officer who was allegedly murdered by some unidentified assailants.

The officers clad in their military uniform and conveying their armored vehicles to the community pulled the residents from their homes and lashed them mercilessly.
Every resident caught in the area received a slice of the military beatings during the sanctioned operation.

Commenting on the issue on Thursday's edition of "Kokrokoo", Mr. Sefa Kayi admonished the persons who having been advocating that a coup should happen in Ghana to take a cue from the Ashaiman-military incident and desist from making such seditious statements.

"Those who feel that a coup is a joke, this should give them a fair idea. Those who wake up and say we need a coup , I hope this will give them an indication that a coup is nothing good. It is not good!" he cautioned.